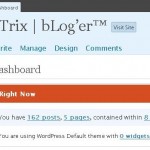 Hey, i finally encourage myself to manually upgrade these blog system, hence current server automation upgrade seem lame to update. My previous WP system are 2.3.2 version, which i always wanted to upgrade, but had lack of time to do so.
So, here it is .. Alhamdulillah, upgrade goes fine with no problem. i upload all necessary folder and system file to the root folder, run the ../upgrade.php file and done !! Few of my friend like Bayu had it upgraded last month, in average it takes about 20 minutes, for me it takes around 15 minutes in total for me for the upload and database upgrade.
What interesting is the new dashboard layout for the admin, it utilize AJAX (scriptaculous), so there'll be only needs for tag, tab and a click .. no more hassle.